This post may contain affiliate links. Please read our disclosure.
You may be wondering whether PetSmart has pet boarding services. Well, if that is the case, then continue reading and learn everything about the PetSmart pet boarding services including rates, requirements, and reviews.
Boarding facilities provide an environment for dogs and cats to recover from travel and stay with their caretakers while away from home.
Boarding facilities provide a peaceful, distraction-free environment with space and toys to keep pets busy, as well as trained staff on hand to help with any needs or concerns.
Ideal for times when you both need some space, or when you just need a little reminder that your pet is safe and cared for.
Boarding is not a long-term solution or for pets who do not require continuous supervision. Please consult a professional for assistance with your pet's specific needs!
Does PetSmart Board Dogs?
Yes, PetSmart does board dogs. PetSmart offers a variety of services for your pet, including grooming, boarding, and more. Additionally, they provide helpful resources and tools, including a pet food selection guide and an online store.
If you're interested in boarding your dog with PetSmart, you can either drop him off at the store or book a reservation online.
To book a reservation online, head to PetSmart's website and select 'Book A Reservation. Then select the location that is nearest to you and follow the prompts to book your dog's stay.
Cost of boarding a dog at PetSmart
Dog boarding services at PetSmart start at $15 to $41 per night. The price is determined by a number of factors that include the chosen suite, the number, and size of pets, and the extra services you chose to include in the service.
Does PetSmart Board Cats?
Yes, PetSmart offers cat boarding services in several of its stores nationwide, through their dedicated pet hotels. These services are available at select locations, so be sure to check with your local store for more information.
Cat boarding at PetSmart provides a safe and comfortable environment for your furry friend while you're away.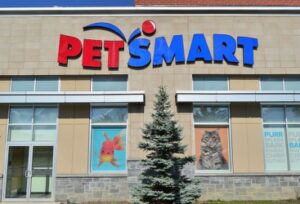 In the boarding rooms, your cat will have access to clean bedding, fresh water, and food, as well as lots of playtime with other kitty friends. Additionally, trained associates are available 24/7 to provide care and attention to your pet.
Does PetSmart Board Guinea Pigs?
Yes, PetSmart boards guinea pigs in their numerous pet hotels! Both the East and West Coast PetSmarts in the United States officially board guinea pigs.
They have a designated area for these little critters complete with food, fresh water, and bedding. They have also designated staff who are familiar with caring for guinea pigs.
The only restriction is that you must bring your own cage.
Does PetSmart Board Birds?
Yes, PetSmart boards birds. They are large enough to have the staff and resources to care for birds in a dedicated bird department.
PetSmart is one of the few places where you can find quality bird care products in one place. Most importantly, PetSmart has employees that know how to care for birds.
FAQs on PetSmart Pet Boarding Services
Does PetSmart board pitbulls?
Yes, you can find quality pitbull boarding services at most PetSmart stores. Pitbulls like other dogs are hosted in PetSmart pet hotels specifically designed to give them the most comfortable stay in the facilities.
Does PetSmart board rabbits?
Yes, you can take your bunny or rabbit for pet boarding and sitting services at PetSmart.
Does PetSmart board hamsters?
Yes, PetSmart does board and sit hamsters. All you need is to visit the nearest PetSmart store outlet and ask if they offer pet sitting or boarding services for the hamster.
Does PetSmart board bearded dragons?
Yes, if you have a bearded dragon that you would like someone to take for it while you travel or attend to an emergency chore, PetSmart can help with you that.
READ MORE: